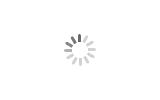 L1800 A3 A4 Size Dtg Printer Machine
Because of the continuous ink supply, the printing speed is faster, and the white ink function is added.

The printing effect of white ink does not fade, scratch-resistant, waterproof, and environmentally friendly. The printing effect is clear and increases the three-dimensional and heavy feeling of the picture.
L1800 A3 A4 Size Dtg Printer Machine
L1800 A3 A4 Size Dtg Printer Machine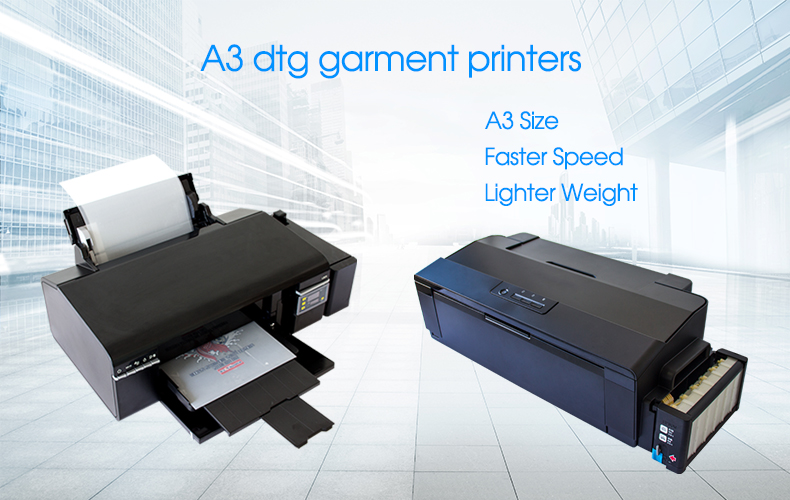 Specifications
Model

Mini 2129

Mini 2942

Application

Apply to all kinds of fabrics

Print Head

R330*1pc

L1800*1pc

Printing Size

A4 Size (210mm*290mm)

A3 Size (290mm*420mm)

Printing Speed

Full A4 Size: 200 secondsHalf

A4 Size: 100 seconds
1/4 A4 Size: 50 seconds

Full A3 Size: 10 minsHalf

A3 Size: 5 mins
1/4 A3 Size: 2.5 mins

Consumables

PET film, Ink, Heat-melt Powder

Printing Media

Type

New technology designed PET film, automatic laser induction printing

Max Width

A4 Size



Ink

Color

CMYK+W

Ink Type

Pigment Ink

Ink Capacity

CMYK: 95ml, White: 230ml

Related Processing Device

Air gun to heat melt the powderHeat Press Machine/Iron to transfer the pattern to fabric

Printing Technology

Three intelligent eclosion print function; VSD technology

Special Circulatory System

White Ink Circulatory system

Ink Supply System

Automatic ink supply system

Capping & Moisturizing

Auto Capping System&Moisturizing System

RIP Software

AcroRIP White ver9.0

Paper feed capacity

20 pieces of PET film

Interface

USB 2.0

Voltage

AC110V+/- 10%、AC220V+/-10%、50/60+/HZ

Operation Environments

Temperature: 20-30℃ Humidity : 50-65%

Power

Printing Mode

Standby Mode

AC 220-240V Approx.4W

Machine Dimension

L547mm X W289mmXH187mm

705mm*322mm*215mm

Package Dimension

L630mm X W370mm X H270mm

860mm*490mm*340mm

N.W/G.W

7KGS / 10KGS

12KGS/14.5KGS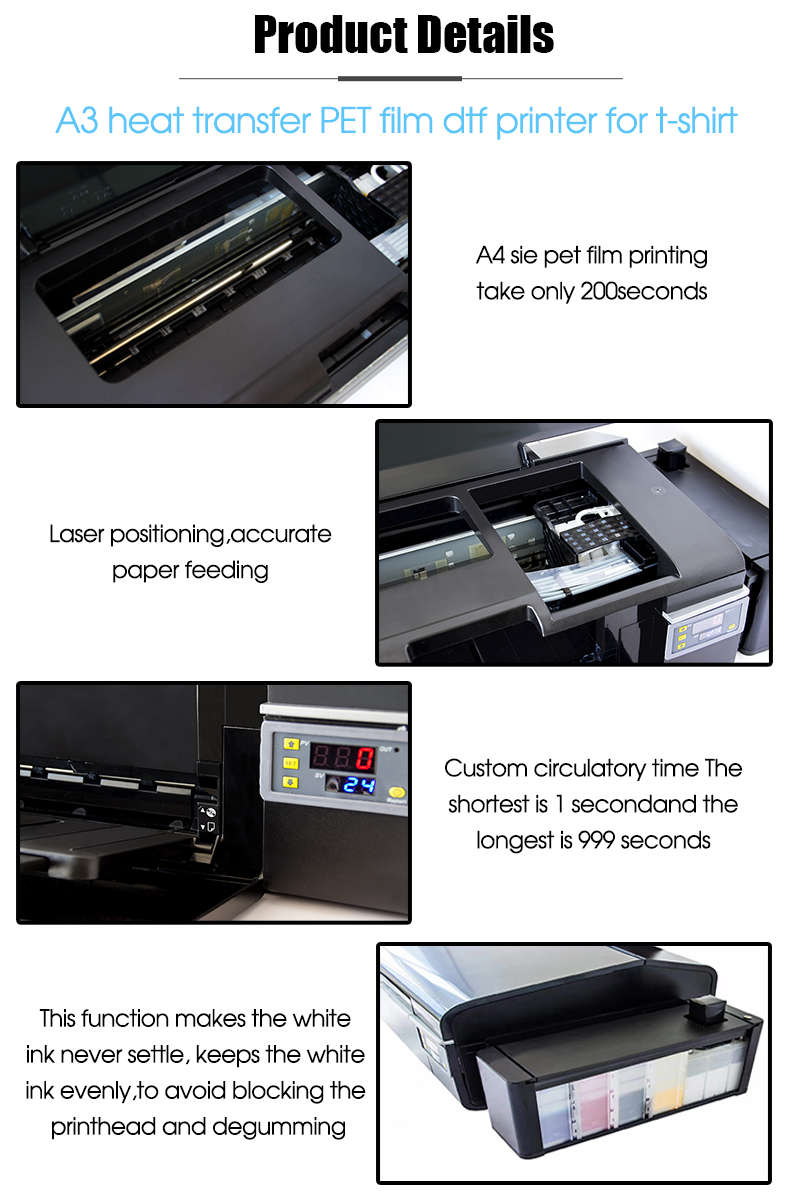 Printing Process
1. Use professional software to draw the picture, and then use the printer to print the pattern on the PET film
(please shake the CISS before printing)
2. Sprinkle an appropriate amount of hot melt powder on the printed PET film and shake off the excess
hot melt powder
3. Put the PET film on the heat transfer machine and bake for 5-7 minutes, until the hot melt powder melts,
take out the PET film
4. Lay the T-shirt flat on the heat transfer machine, and stick the side sprinkled with hot melt powder on
the T-shirt for pattern hot stamping,and the hot stamping takes 15-20 seconds (adjust the pressure to
the maximum)